HOW TO THROW A CAST NET
There are many ways to throw a Cast Net , this method eliminates the need of putting the net between your teeth to help load the net. It also puts the weight of the net onto your shoulders so you can search for the bait longer without fatigue. These Instructions are for right handed anglers, switch hands and shoulder directions if you are left handed
CLICK IMAGES TO MAKE LARGER
STEP 1: Secure Throw Rope on left hand and coiled in a counter clockwise direction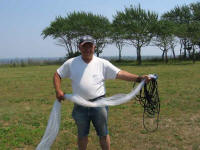 (CCW), Grasp the horn of the net with left hand, and then slide right hand down the net and stop where net is at waist high.
STEP 2: Coil the net CCW forming 1 loop at waist high, hold in left hand.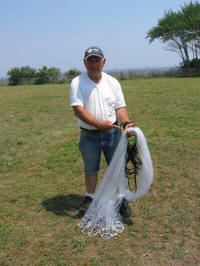 STEP 3: Reach down with your right hand and grab the Lead line,
Throw it over your left shoulder and let it rest. Place your right hand in net.